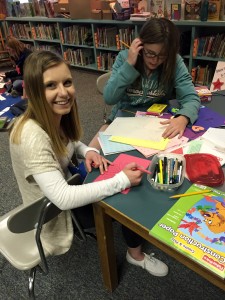 After School Buddies programs meet weekly from November until May offering an awesome variety of activities.  "Big Buddies" (teens or college students)  are paired up with younger students ("Little Buddies") for homework time, character development lessons, arts and crafts, small group communication, exercise, dance, nutrition or community service projects. Field trips and reaching out to others in need make for a wonderful weekday program for all ages!
Elementary programs meet in various locations throughout Bend, Oregon.   Big Buddies start at 3:00 with elementary girls joining them at 3:30. Elementary programs end at 5:15 with leadership training and planning sessions continuing until 5:30.
Middle School Buddies ( THRIVE!)  meet on Wednesdays at Christian Life Center on the east side of Bend. Girls from all of Bend's middle schools or home-schooled girls are invited to join amazing college-aged Big Buddies for a rocking afternoon of relationship building, arts, crafts, exercise, music, cooking, outreach projects and more.
ELEMENTARY SCHOOL PROGRAMS for Fall 2017
Three elementary programs will start mid fall. Elk Meadow Buddies will meet on Mondays, Buckingham Buddies on Tuesdays and Juniper Buddies on Thursdays.
Please contact Charlene Schulz at 541 390-3046 if you are interested in having your child participate. Enrollments are taken on a first come/first served basis.
Buckingham Buddies
 Serving 4th and 5th grade girls, ASB has met in the Buckingham School since 2003. ASB Buckingham will meet on Tuesdays in the Activity Room. Info flyer and student permission slip will be posted soon. Buckingham School is at 62560 Hamby Rd. Bend, OR 97701
Elk Meadow Buddies
Big Buddy teens and young adults will meet at Elk Meadow School in the library on Brookswood Blvd. in SW Bend on Mondays.
Elk Meadow is at 60880 Brookswood Blvd, Bend, OR 97702
Juniper Buddies
ASB Big Buddy teens and young adults meet at Juniper School in Building C in the Staff Room in NE Bend on Thursdays.
Juniper is at 1300 NE Norton Ave, Bend, OR 97701
ASB Middle School Program – THRIVE! 
ASB is the answer to early release blues for Wednesdays!  THRIVE! girls meets weekly to build relationships, learn life skills (cooking!!! among others), exercise, crafts, community service and much more.  Girls from 6th-8th grade are invited to participate in fun self-esteem and confidence building activities led by committed, amazing adults and college-aged students.
To learn more – click on this link read the flyer. Then – share with a friend! She might want to participate or volunteer as a mentor!
Students/parents must complete the application (see below) and contact Charlene Schulz at 541 390-3046 to make sure that your child is enrolled and that Bend Lapine school transportation has been arranged for her.
Thrive Middle School Permission Slip 2017_18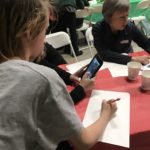 For further information about these programs email afterschoolbuddies@gmail.com.