As a registered 501 3C nonprofit organization we are dependent on your donations to serve the girls of After School Buddies. From supporting our ongoing programs for both elementary and middle school girls to helping us build the summer camp pavilion/shelter (see below), every dollar helps.
Our programs – both school year and summer leadership camp – are offered free of charge to all participants.  Lack of funds should not be a barrier for girls to participate.   You can help us by giving on an ongoing basis or offering a one-time gift.. they all add up.
Your donation of $50 will pay for one 4th-8th grade or high school girl to attend weekly after school mentoring programs; $500 will pay for 7 girls to attend summer day camp.  Or you can help to build our outdoor shelter and increase the participation and comfort of young girls and teen/college age mentors/adult volunteers by providing a safe, sheltered area for gathering. (see below)
Click the button below to go to a Paypal donation link and use your Visa, Mastercard, Amex, Discover cards or Paypal account.
If you have trouble with this link, please email afterschoolbuddies@gmail.com so that we can trouble shoot the problem.
Or – send your check made out to After School Buddies and mail it to 62595 Hamby Road Bend, OR 97701.
Pavilion/Shelter Fundraiser
This project was birthed from a lesson called "The Big Dream" prepared by one of the Big Buddy volunteers. Students were asked to define their one "big dream" and then to write out steps to make the dream a goal and eventually a reality.  Char's dream was one she has had for many years – to build a permanent picnic shelter to support the ASB summer camp and other ASB outdoor activities held throughout the year.
For the past 11 years Char and Jerry have hosted ASB day camps serving many hundreds of girls and women. The camp is unique as adult women volunteer as mentors to ASB teen and college gals throughout the summer helping them design and deliver the FREE camp to 4th-8th grade girls.  From the July 4th fundraising booth through to the actual camp – ASB leaders enable young women and teens to share their passions and empower and inspire young girls to love others as they have been loved.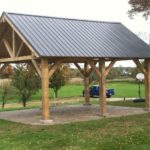 This "Big Dream" shelter project took on a special life when one of our college Big Buddy mentors chose the project for her Oregon State University, Cascades grant writing class. Her enthusiasm and belief in the need for the shelter helped encourage us that it was truly a possibility.
So now it's time to ask for your help to realize our dream. The 30 x 54 foot open pole-barn type shelter may cost as much as $20,000 to build. (We have had bids for more than that.) It is feasible that we will be able to reduce the construction costs by securing some volunteer labor but first we have to raise enough money to purchase the supplies. The good news is that we have secured a donor who will provide up to $10,000 of matching funds. We have also received donations of more than $5500 towards the cost of making our dream a reality. So we just have to continue to seek other donors who are willing to partner with us to see this dream come true.
Every dollar you provide brings us that much closer to seeing our dream come true. Please consider donating to this special cause and know that your donation will be used to empower, enrich and inspire young woman and girls all year long.